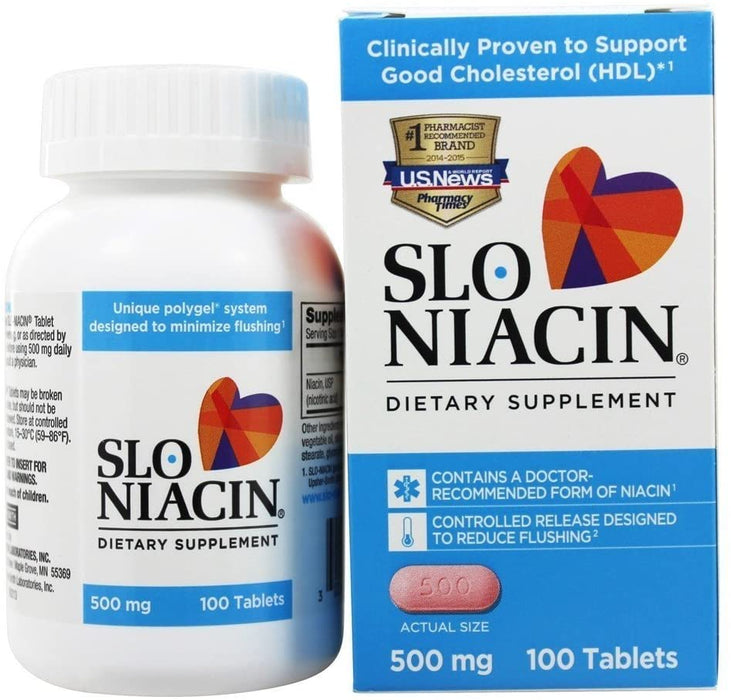 Slo-Niacin Vitamin B3 500 Mg - Slow Release Niacin for Heart Health, Energy Boost, Health Skin, Healthy Blood Sugar Levels - 100 Capsules
CARDIOVASUCALR HEALTH SUPPORT: This powerhouse supplement has been clinically shown to boost good levels of HDL cholesterol and decrease levels of triglycerides and LDL cholesterol which can result to blockage of blood vessels, helping maintain a heathy heart.

OVERALL HEALTH SUPPORT: Studies has shown Niacin, also known as Vitamin B3, naturally promotes the proper functioning of the digestive system, nervous system, skin health and support healthy blood sugar levels for a happy and healthy you.

PROMOTES CELLULAR ENERGY: Do you occasionally tired and need energy? Diets rich in niacin has shown to support cellular energy by supporting proper Energy Production and Fat Metabolism to keep you active and alert even as you age.

100 NIACIN CAPSULES, SLOW RELEASE: Each bottle contains flush free 100 capsules of 500Mg Niacin (Vitamin B3) with unique time release formula that slowly releases niacin into your system without causing the unpleasant flushing signs.

100% PURE: Made in the USA with natural and organic ingredients. Free from Gluten, Wheat, Dairy or other unnecessary additives and preservatives.